The most delightful inspiration for your Christmas interior!
Prepare for the most magical time of the year! It's never too early to start thinking about Christmas decorations. Whether you opt for a classic red and green theme, an elegant Black & White, or a luxurious Gold Christmas, you'll find everything you need to make your Christmas wishes come true with us. Our extensive collection includes Christmas baubles, Christmas ornaments, Christmas dinnerware, and much more. We offer a wide range of styles to suit everyone, from traditional to modern, from subtle to extravagant. Thanks to our Christmas decorations, your home and tree will look beautiful.
And, of course, don't forget your guests during the Christmas dinner. Impress your friends and family by decorating your table with our stylish Christmas dinnerware and festive table decorations. This will make the dinner even more special and unforgettable. Don't wait any longer and explore our range of Christmas home decor and Christmas gifts. Our collection includes items you've never seen before and didn't know you needed. Be inspired and make your Christmas an unforgettable celebration!
How to decorate my house for christmas?
With Christmas on the horizon, it's time to transform your home into a festive wonderland. Start with a well-thought-out plan and a color scheme that matches your interior. Lighting plays a crucial role in creating the desired atmosphere, so don't forget to add Christmas lights, candles, and lanterns. A beautifully decorated Christmas tree, window decorations, and indoor and outdoor decorations add a festive touch. Consider making your own decorations for a personal touch. Finally, enjoy the process and remind yourself that Christmas is about being together and creating beautiful memories.
Explore our extensive Christmas categories featuring everything for an enchanting festive season, from culinary essentials for your Christmas dinner and unique Christmas ornaments to atmospheric decorations and exquisite Christmas candle holders. You'll discover an abundance of Christmas products and accessories with us, including traditional colours, outdoor decorations, and DIY decorations for that personal touch. Begin your perfect Christmas experience with us, ensuring you're ready in time to beautifully adorn your home and enjoy the magic of Christmas with your loved ones.
textile for the christmas dinner
Make your Christmas dinner unforgettable with our extensive range of festive textiles. Our selection includes beautiful tablecloths, napkins, and table runners designed to enhance your festive table and add a touch of elegance to the holiday cheer. With a variety of colours, patterns, and textures to choose from, you'll find the perfect textiles with us to envelop the table in a warm, inviting ambiance. Let your guests dine in style and create memories that will last a lifetime, thanks to our festive Christmas textiles.
Choose your Christmas style and bring the magic of the season to life with "Cosy Christmas" for a traditional Christmas in rich red and green tones, or "Christmas Pastels" for a soft and modern Christmas atmosphere with pastel colours and subtle sparkles. Whether you choose for the classic charm of "Cosy Christmas" or the dreamy allure of "Christmas Pastels," both styles offer an enchanting Christmas experience that reflects your personal taste. Explore our collections and create an unforgettable Christmas in your favorite style.
This season, discover the essential Christmas products you need to create a magical holiday period. Our carefully curated selection includes everything from dazzling decorations and beautiful ornaments to meaningful gifts and winter fashion accessories. Chosen with love, our favourite Christmas products offer the perfect choice to decorate your home, wrap gifts, and celebrate the holiday season in style. Browse through our collection and find the items that will make your Christmas special. Be inspired and make this Christmas an unforgettable experience with our indispensable Christmas products!
Discover our six trendy Christmas styles for an enchanting holiday season. Whether you prefer the timeless elegance of "Traditional Red & Green," the modern sophistication of "Black & White," the serene beauty of "Blue Christmas," the glamorous splendor of "Golden Christmas," the rustic charm of "Natural," or the joyful atmosphere of "Pink Christmas," our trends have something for everyone. With carefully curated collections, we assist you in creating your perfect Christmas ambiance. Be inspired and bring your unique holiday vision to life in a season filled with enchanting Christmas trends and festivities.
Get inspired for an enchanting Christmas through our informative blogs filled with decoration tips, gift ideas, and party planning advice. Whether you're looking for innovative decoration ideas, festive traditions, or the perfect Christmas tree decor, our blogs offer valuable insights and ideas to make your Christmas celebration unforgettable. Explore our archive of Christmas blogs and be inspired by experts who share their knowledge and passion for the holidays. Whether you're a seasoned Christmas enthusiast or curious about new ideas, our blogs are an endless source of Christmas inspiration to make this holiday season a special occasion.
looking for christmas gifts?
Discover the perfect Christmas gifts for everyone on your list with us. Whether you're looking for gifts for family, friends, or colleagues, our extensive selection offers something for everyone. From budget-friendly options to luxury surprises, our gift ideas are diverse and personal. Be inspired by our offerings and make finding the perfect Christmas gift an enjoyable and stress-free experience, so you can pamper your loved ones with thoughtfully chosen gifts this Christmas.
the big christmas trends of 2023
Discover the major Christmas trends of 2023 - nutcrackers and Santa Clauses. These traditional symbols of the holiday season are getting a contemporary makeover this year, giving them a fresh shine. From hand-painted nutcrackers to modern interpretations of Santa Claus, our selection offers a range of choices to enrich your Christmas decorations and gifts. Explore these trends and be inspired by their creativity and diversity, making the upcoming holidays a magical and memorable experience.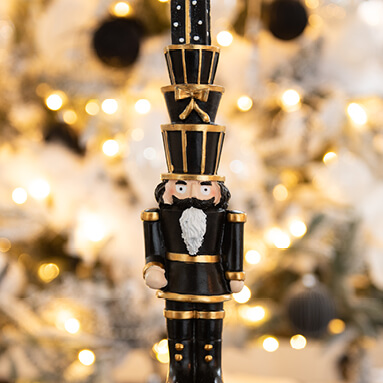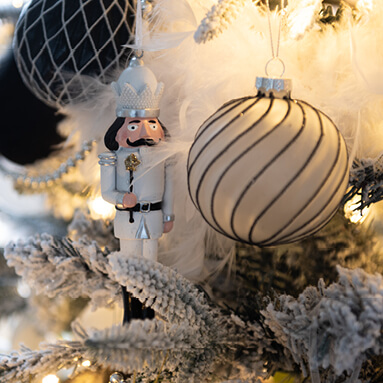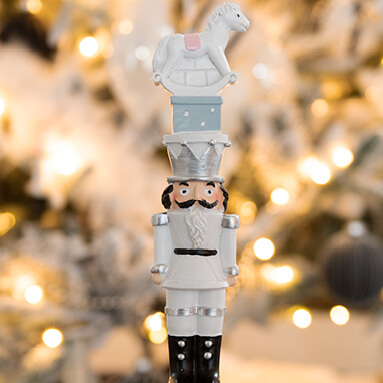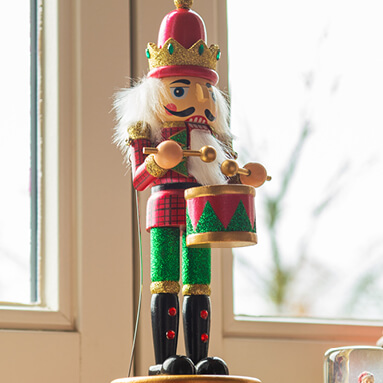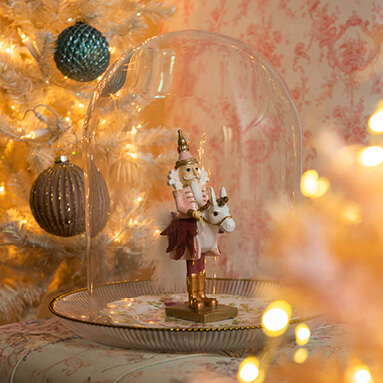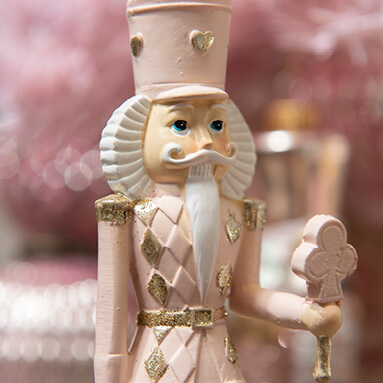 Nutcrackers aren't just handy tools for cracking nuts; they're also popular decorations during the holiday season. They're especially known for their traditional German origin and are often used in Christmas decor. Nutcrackers come in all shapes and sizes, making them perfect for blending with various decoration styles.
Traditionally, nutcrackers are wooden figurines, often hand-painted in bright colours. They symbolize luck and prosperity, which is why they're a common decoration in many homes. Nutcracker figurines are often associated with Christmas because they're frequently used as ornaments on the Christmas table, around the Christmas tree, or as part of nativity scenes.
Nutcrackers also make wonderful gifts for those who appreciate traditional and classic decoration styles. They're perfect for collectors. With their unique appearance and timeless charm, nutcrackers are a perfect addition to any Christmas decor. Whether you choose for a classic, elegant, or modern decoration style, there's a nutcracker that suits you. So, what are you waiting for? Add some extra charm and personality to your Christmas decor with a beautiful nutcracker.
The magic of Christmas comes to life with our beautiful Santa Claus figurines. Decorate your home, office, or living space with these enchanting figures and create a warm and festive atmosphere during the holiday season. Santa Clauses not only exude pure coziness but also bring the joy of Christmas into your home.
Complete your Christmas with a beautiful Santa Claus figurine that will be the centerpiece of your decoration. Whether you place a Santa Claus figurine by the Christmas tree, on the fireplace, or on the windowsill, it's sure to attract attention and bring a smile to the faces of your guests. Add a touch of magic to your Christmas celebration and let Santa Claus come to life in your home with a breathtaking figurine.
Bring the joy and enchantment of Christmas into your home with a beautiful Santa Claus figurine and create an unforgettable Christmas experience for yourself, your family, and your guests. So make your Christmas interior extra enchanting with our stunning Santa Clauses.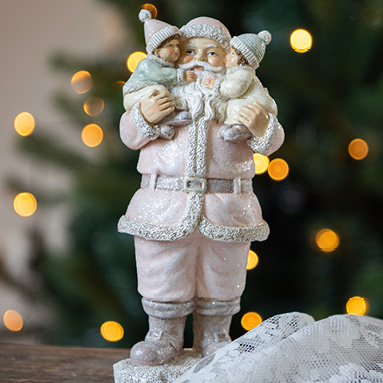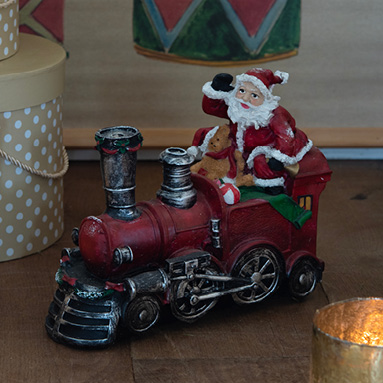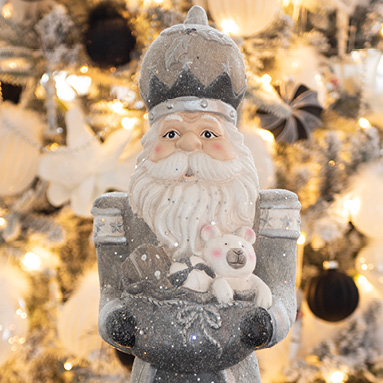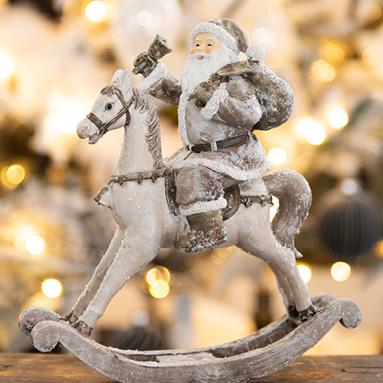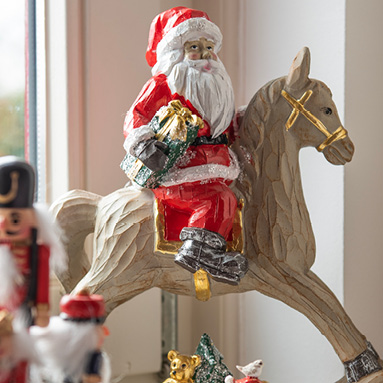 Creating a cozy atmosphere
The Christmas dinner is the highlight of the holiday season. A beautifully decorated Christmas table is a must. Enjoy long, festive meals with family and friends, which is the greatest Christmas gift of all. Experience Christmas at a beautifully decorated table with Christmas dinnerware, drinkware, matching Christmas textiles, candle holders, and ornaments. Choose a striking theme, like Pink Christmas, and mix and match, or opt for natural materials and calm colours. Our collection offers plenty of options for every taste, both on the table and in the kitchen. Let's eat, drink, and be merry!
Creating a cozy atmosphere with our Christmas decor
The ultimate centerpiece in every living room is, of course, the Christmas tree. A true showstopper, adorned with ornaments, Christmas baubles, tree ornaments, and garlands. Underneath the tree, carefully wrapped Christmas gifts are waiting to be unwrapped. In our opinion, it doesn't have to stop at just a beautifully decorated tree. Think of beautifully decorated mantels, vases, and cloches. With items like Christmas stockings, nutcrackers, Christmas figurines, and Christmas home decor, you can quickly transform your home into a cozy and snug space. Our decorative cushions and throws are also the perfect ingredients for the coziest time of the year.
Let your Christmas tree shine
When you think of Christmas, you immediately think of Christmas baubles and tree ornaments that look beautiful in the Christmas tree. Discover them in our collection in all colours, types, and sizes. Create an atmospheric Christmas tree with baubles, ornaments, and hangers in the same style, or go for a 'wow effect' by mixing different styles, colours, and textures. Choose for a traditional, serene, natural, or black and white style. Nothing is too crazy, and everything is allowed. Make your tree a cozy, welcoming centerpiece this holiday season, reflecting your own personality. Happiness is... putting up a Christmas tree.
Clayre & Eef's Christmas collection
Discover the enchanting Christmas collection from MilaTonie - your online Christmas store!
Get your home into the Christmas spirit with the unique and stylish Christmas decorations and accessories from Milatonie. Explore our extensive range and enjoy an unforgettable Christmas. Christmas is the time of year to fill your home with warmth, coziness, and festive decorations. At Milatonie, you'll find an extensive collection of Christmas decorations and accessories to transform your home into a true Christmas paradise. Explore our enchanting assortment and let yourself be inspired by the magic of Christmas.
unique Christmas decor for every interior
At Milatonie, we offer a diverse selection of Christmas decorations to suit different interior styles and tastes. Whether you prefer traditional, modern, or rustic, our collection includes unique and stylish decorations that perfectly complement your decor. From Christmas baubles and ornaments to garlands and wreaths, Milatonie has everything you need to complete your Christmas.
Stylish Christmas table decor and dinnerware
Make your Christmas dinner extra special with our beautiful Christmas table decor and dinnerware. Discover our range of tablecloths, napkins, napkin holders, table runners, festive dinner sets, glassware, and cutlery sets. Combine these items to create an elegant and festive table setting that your guests will enjoy.
Original and festive Christmas gifts
Looking for the perfect Christmas gift for friends and family? Milatonie offers a wide selection of original and festive gifts. From home accessories and candles to decorative cushions and throws, our Christmas collection features beautiful gifts that your loved ones will surely appreciate.
Easy online shopping and fast delivery
Shop for all your Christmas decorations and accessories easily and securely at Milatonie. Our user-friendly online store allows you to explore our extensive range at your convenience. Take advantage of our fast delivery and excellent customer service, so you can enjoy the holidays with peace of mind.