Decorating Tips for Styling Your Mantelpiece!
The mantelpiece, that central element in many living rooms, has always played a prominent role in the world of interior design. Whether you have a classic fireplace or a modern electric model, the mantelpiece is often the focal point of coziness and aesthetics in your home. But how can you make the most of this space and decorate it to express the style and personality of your home?
In this blog, we delve deeper into the art of decorating your mantelpiece. Whether you're looking for an elegant and timeless look, a trendy and contemporary feel, or just some fresh ideas to breathe new life into your mantelpiece, we have the perfect tips and suggestions for you. Let's explore together how to transform your mantelpiece into a breathtaking centerpiece that enhances the charm of your home.
What looks good on a mantelpiece?
Looking for the perfect way to decorate your mantelpiece? Be sure to consider decorative statues. They are timeless, versatile, and can add a touch of personality and style to any mantelpiece. Choose statues that fit your interior, from elegant sculptures to modern abstract artworks. These decorative pieces can subtly draw attention or be a striking centerpiece, depending on your choice. Whatever you choose, decorative statues are a great addition to your mantelpiece decor.
How to style a mantelpiece with home decor?
Styling a mantelpiece with home decor can be a fun and creative way to spruce up your interior. Start with a neutral base, such as a beautiful painting or a mirror, as a background for your styling. Then, add layers with decorative elements like vases, candles, and books. Try different heights and textures to create visual depth. And don't forget to add personal touches, such as family photos or souvenirs, to give your mantelpiece a unique look. Experiment and let your creativity flow - this way, you can turn your mantelpiece into a real focal point in your home.
What lamp is suitable for a mantelpiece?
Choosing the right lamp for your mantelpiece is essential to combine functionality and aesthetics. For mantelpieces, wall lamps and table lamps are often good choices. Wall lamps can be elegantly mounted on the wall above the mantelpiece, casting a subtle yet stylish light on the decor below. Table lamps, on the other hand, can be placed on the mantelpiece itself, creating a warm atmosphere and serving as decorative accents. Choose lamps that match the style of your mantelpiece and your interior, and consider the level of brightness you want to achieve. With the right lamp, you can not only beautifully illuminate the mantelpiece but also enhance the ambiance in your space.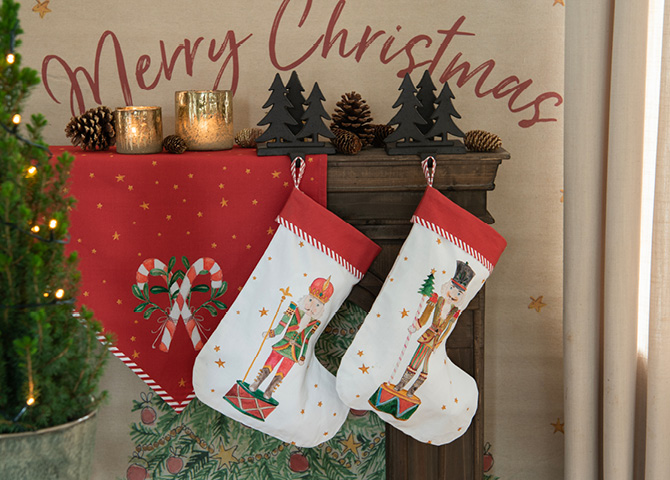 Creating a Christmassy Atmosphere for Your Mantelpiece
What Christmas decoration can I hang on a mantelpiece?
Christmas and mantelpieces go hand in hand when it comes to festive decoration. To bring your mantelpiece into the Christmas spirit, you can start with a beautiful garland that you can drape along the edge of the mantelpiece. Then, add Christmas lights for a warm glow. Christmas stockings are also a traditional choice and can be hung on the mantelpiece to expect gifts. Additionally, you can incorporate Christmas wreaths, ornaments, and even Christmas greenery and pinecones into your mantelpiece decoration. The key is to choose a theme and color scheme that matches your overall Christmas decor and personal taste. This way, your mantelpiece becomes the shining centerpiece of your Christmas decoration.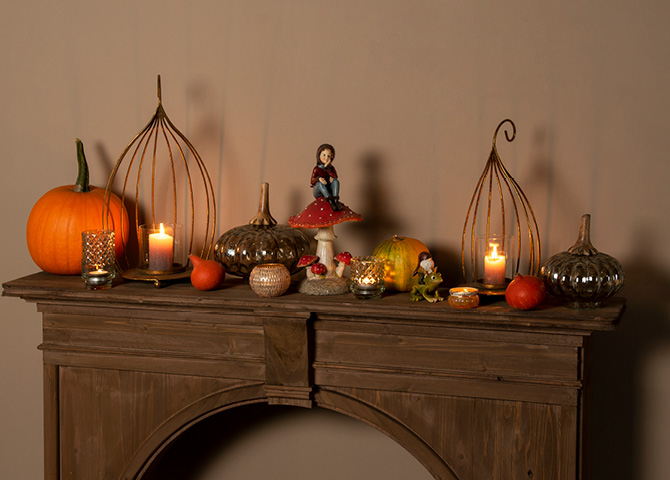 How to create an atmosphere for your mantelpiece during Autumn?
During autumn, you can bring the warmth and coziness of the season to your mantelpiece through thoughtful decoration. Start by replacing summer accents with autumnal colors and elements. Think warm oranges, deep burgundies, and rich browns. Leaves, pumpkins, and pinecones are perfect decorative elements to incorporate into your mantelpiece display.
An autumn wreath can be a beautiful addition to the top of your mantelpiece, while candles with autumn scents like cinnamon and apple can fill the space with a delightful atmosphere. Also, consider adding soft blankets or knitted scarves to create a snug atmosphere. The ultimate goal is to transform your mantelpiece into a cozy autumn corner where you can relax and enjoy the seasonal charm.
10 Decorating Tips for the Loveliest Mantelpiece
How to Decorate a Mantelpiece?
1. Choose a Focal Point: The mantelpiece is often the centerpiece of a room. Choose a striking artwork, a large mirror, or a standout decorative piece to draw attention.
2. Symmetry or Asymmetry: Consider whether you want a symmetrical or asymmetrical arrangement. Symmetry can create a sense of balance and elegance, while asymmetry gives a more eclectic look.
3. Seasonal Decor: Change the decoration on your mantelpiece with the seasons. Use light, fresh decorations in spring and summer, and warm, cozy items in autumn and winter.
4. Mirrors Enlarge Space: If you want to expand space, consider using a large mirror above the mantelpiece. The reflective surface creates the illusion of a larger room.
5. Add Lighting: Atmospheric lighting can bring the mantelpiece to life in the evenings. Consider wall lamps, candles, or small table lamps.
6. Layers and Depth: Add visual depth by placing decorative items at different heights. This creates a layered effect that is visually interesting.
7. Personal Accents: Add personal touches, such as family photos, travel mementos, or heirlooms, to give your mantelpiece a unique look.
8. Color Coordination: Ensure the colors of your mantelpiece decor match the room's color palette. This creates harmony and a cohesive look.
9. Seasonal Flowers and Plants: Place fresh flowers or seasonal plants on or around the mantelpiece to brighten up the space.
10. Minimalism or Abundance: Consider your personal style. Some people prefer a minimalist look with minimal decoration, while others enjoy an abundance of decor. Choose what suits you and your space best.
Decorating remains a creative expression, so experiment and adapt the tips to your own taste and home style.
What can I fill the mantelpiece with?
The mantelpiece offers an excellent opportunity to express your creativity in interior decoration. One of the most powerful ways to make the mantelpiece the center of attention is by experimenting with the background. Wallpaper is an excellent choice. It has the capacity to transform a space from ordinary to extraordinary with just one design.
Select wallpaper with a pattern or color that suits the atmosphere you want to create. For example, choose bold geometric prints for a contemporary look or softer floral patterns for a more traditional ambiance. The wallpaper serves as a beautiful backdrop for other decorative elements and immediately grabs attention when entering the room.
What wall decor is best for the mantelpiece?
Choosing the ideal wall decor above your mantelpiece is a crucial step in creating the right atmosphere in your space. It depends entirely on your personal taste and the ambiance you want to achieve. Artworks can capture attention, while mirrors make the space appear larger and reflect light for a bright atmosphere.
You add a personal touch with photo frames and collages of family portraits or travel memories. If you want to save space, wall shelves are a practical choice for displaying artworks, plants, or other decorative items. Choose what best suits your preference and your home's decor, and let your mantelpiece leave a unique mark on your interior.
What is the suitable size for a wall clock?
When selecting the ideal wall clock above your mantelpiece, it's all about achieving a sense of balance and aesthetic harmony. A handy guideline here is that the clock should cover approximately two-thirds to three-quarters of the mantelpiece's width. It's important to hang the clock at eye level or slightly above it, making it easily readable and seamlessly fitting with the style of both your mantelpiece and your interior.
Ultimately, the right size depends on the specific dimensions of your mantelpiece, your personal preference, and the overall room decor. The essential thing is that the clock is both practical and aesthetically appealing, making it a beautiful addition to your living space.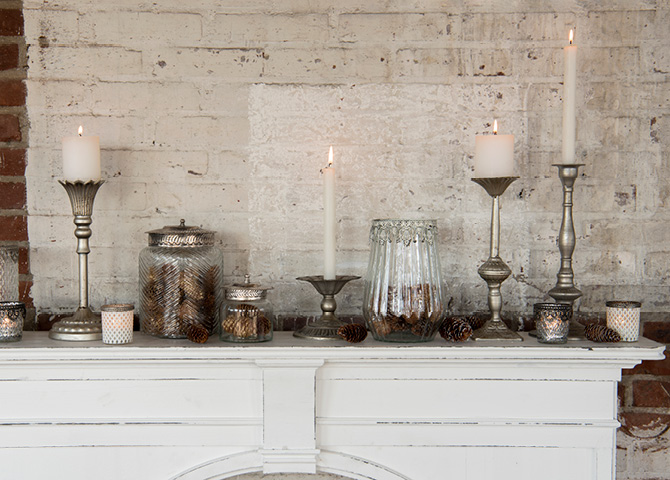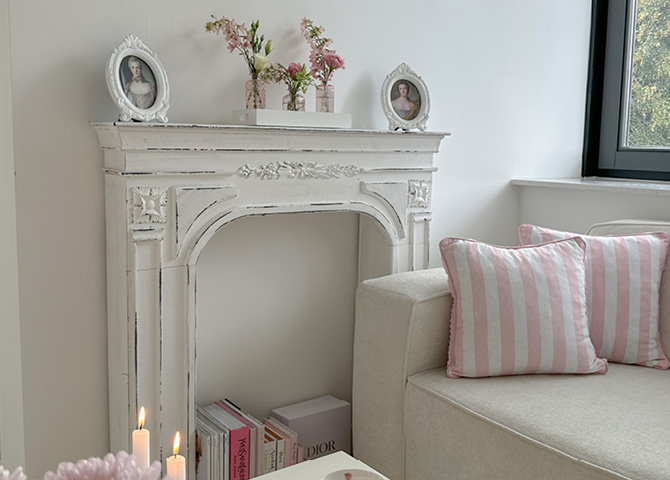 The Beating Heart of Your Interior Style
In the heart of your home, the mantelpiece, lies a world of decorating possibilities. Whether you opt for eye-catching artworks, a mirror that reflects light, photo frames filled with memories, or even wallpaper with an enchanting pattern, the mantelpiece can become a stylish and personal focal point. Think of seasonal decor to keep the ambiance in your home always fresh. When it comes to wall clocks, let balance and harmony guide you in choosing the right size.
The mantelpiece isn't a static feature but rather a canvas for your creativity and style. So, dare to experiment, mix and match, and let your personality shine in every decorative detail. Whatever you choose, make sure it turns your mantelpiece into a unique centerpiece in your beloved space. This way, the mantelpiece becomes not only the heart of your home but also the beating heart of your personal style.
Not finished reading yet? Check out these blogs for more inspiration!